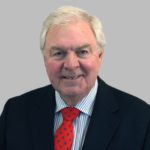 in conversation with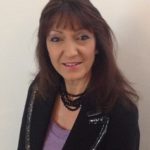 ---
Eddie Bentley started his career in the Buying Office of the Littlewoods Organisation.  In 1975 he joined GUS and swiftly rose up in the ranks of the mail order division to become Merchandise Director in 1982.  Because the importing of merchandise from the Far East became so important, Eddie then became Merchandise Operations Director, as it was necessary to restructure the entire logistics of the company, embracing bar code technology and semi-automatic warehouses, including setting up White Arrow Express, for both parcel and 2-man home delivery services, which was then able to undertake 3rd party deliveries for other retailers. Eddie became Managing Director of White Arrow Express, and also a director of Home Retail Group (Argos) when GUS purchased it in 1991, and was also involved in reorganising the logistics of the GUS owned Burberry.
Eddie left GUS/White Arrow Express in 2002, with a view to early retirement, but almost a year to the day after leaving White Arrow Express the phone started ringing, requesting advice and assistance. In 2003 Eddie founded E.G.B. Associates Ltd which advises those in retail and logistics on all aspects of the industry, on technology and supply chain management, with a specialist interest in distance selling and luxury.
Until recently Eddie was a Trustee of the Retail Trust for almost 30 years. He is now an Ambassador.
Eddie's position on the IORMA board is greatly valued and he has much to offer because of his incredible experience and knowledge combined with a no nonsense pragmatic approach borne out of his northern roots.  This kind of expertise is hard to top; there is more however.  Over the years Eddie has amassed a range of high level connections with CEOs across the retail ecosystem including the luxury sector.  I asked Eddie to tell us more about his career and how he can assist IORMA and its associates.
---
PML:  What has been the most valuable lesson you have learned in this long career?
EB: The customer is all important.  Therefore products and services have to meet or exceed their expectations.  This has become even more important in the world of omni-retailing.  Do what is best for the customer, not what is easy for you to achieve.
PML:  How are you assisting businesses in retail right now?
EB: I provide advice to retailers regarding the latest developments in omni-retailing, including the logistics element, and can often introduce potential service providers to meet their requirements. This is ongoing through IORMA.
PML: What is the key issue facing the CEOs you are consulting with now as opposed to 20 years ago?
EB:  Keeping pace with ever-changing technology and the pitfalls that need to be avoided.
PML:  Where do luxury brands stand currently vis a vis mainstream retail in their approach to consumer commerce? How is luxury evolving?
EB: Initially luxury brands were not in the forefront of omni-retailing , as they seemed to believe that their top notch products would almost "sell themselves", but they have caught up in recent times and they now realise that omni-channel retailing is all important.  There is no point in having an excellent product without multi-channel access.
PML:  Give me a perspective on luxury brands today given your past experience of working with many brands.
EB:  For a while these brands thought they were exempt from modern technology but now they are actively learning how technology can improve their performance in many ways.  For instance in tackling the issue of counterfeit goods, and in the customer having better "on-line" access to pre-sales information by tablet or mobile phone.
PML:  What do you mean in this context by pre-sales information?
EB:  Not just reliance on a photograph but by providing videos, making more product information available, e.g. regarding fabric, performance, fit, and what gives an item "exclusivity" or the right to be called a luxury product.  Provide more detail that gives customers a reason to pay the price.
PML:  Vincent Bastien who teaches luxury at HEC teaches that with true luxury, you never justify the price!  Do you feel it needs to be justified if you are selling a luxury brand?
EB:  Yes and no, dependent on the product, but you need to provide sufficient information to help customers make a purchasing decision, which in turn extends the brand image and the purchaser's perception of it.
PML: What are the brands you admire for their ability to sustain results and engage consumers long term?
EB: There are many such brands. Among them are Next who seamlessly took their brand from bricks & mortar to catalogue (directory),and now to omni-retailing, taking their existing customers with them and gaining new ones along the way. Burberry have also made great strides  to improve customer satisfaction. Retailers that have had both bricks and mortar and Home Shopping backgrounds have been best placed to move into omni- retailing but others are catching up.
PML:  What is your experience of luxury associations (Walpole, Vendome etc) and what value should they be bringing their members?
EB: I have sat on a forum for the Walpole with regard to the development of e-commerce.  Walpole's role is to cosset the exclusivity of luxury products, whilst at the same time embracing modern technology.  Luxury and excellence rubs off – if you are on a forum rubbing shoulders with top notch brands, they generally have top notch people running them.  It is the sharing of expertise, but not just that, it is the attitudes of the people involved.  I have really enjoyed sitting next to such people at awards dinners and the like, and sharing values.
PML:  How will logistics change in the future given the latest developments with drones, Shutl and, Uber and collection points such as Ebay in Argos and so on.
EB: Firstly, convenience will become ever more important to each individual.  It will be all about personalisation. The service that will suit a person today will not suit them tomorrow.  Today maybe they will want home delivery, but tomorrow they will want click & collect.  In my opinion those companies that are offering flexibility and the efficient use of resources will be the most cost effective and customer friendly. Drones will have limited usage for home deliveries. Not every address has a landing point, and convenient drop boxes such as those operated by Argos will be more important.
Secondly, clothing retailers still have the issue of returns.  Customers and retailers are burdened by this and it is costing too much for the retailer.  Women, in particular often order at least two sizes in a garment, knowing that they can return the non-fitting sizes, free of charge. There is a reluctance for women to provide their actual body measurements, so that an appropriately sized garment can be provided. Perhaps a modest discount could be given if women provided their basic measurements, rather than a dress size. Organisations such as MIPSO, have made important inroads into reducing returns, once customer body measurements have been provided. It is unfortunate that more women do not want to give their body measurements. Maybe an across the trade education programme is needed!
PML:  What was your motivation for joining IORMA and what do you feel you can contribute?
EB:  I worked with John Andrews, IORMA Chairman and CEO, many years ago and his ability to spot future trends in the use of technology and how they would affect commerce, and retail in particular, impressed me.  When he approached me about joining the Board, the entire concept of what IORMA stands for appealed and I saw it as a great opportunity to "make a difference" to the industry in which I have spent most of my life.
PML: How can associates benefit from joining IORMA?
EB: They will be joining a 'family' of service providers to both retailers and other associates such as insurers, banks, and property developers and thus have the opportunity to meet important potential clients and business partners through IORMA receptions and specific workshops. They also have representation on the IORMA website.
PML:  How can IORMA Luxury assist Luxury Brands?
EB:  By niche targeting of services by companies that are almost uniquely appropriate, and can bring added value and relevance to brands and their discerning customers. Areas such as security, anti-counterfeiting, and cyber security are in particular more important to the luxury brands and their high value customers.
---