Consumer Commerce – The Returns Factor
September 2022
Brian Kilcourse, Managing Partner, Retail Systems Research LLC (RSR)
Before co-founding RSR in 2007, Brian was President & Chief Executive of Retail Systems Alert Group, a B2B media company focused on the retail ecosystem. Brian was the SVP & CIO at Longs Drug Stores, a $5B enterprise with markets in the U.S. West Coast and Hawaii, from 1993 through 2002. One of the top retail CIO's in the United States during his tenure, Brian was named one of the Premier 100 IT Leaders by Computerworld magazine. He is an Advisory Board member of IORMA.
---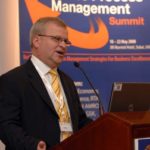 Steve Allen, Regional Sales Director UK & MENA, Metapack Group
Steve Allen was originally involved in developing Bar Code Solutions, now seen in most retail stores, before moving to a bespoke software company delivering In Flight Duty Free Solutions to airlines such as Delta and Air Canada. Since then, he has worked across the globe with a variety of international IT companies. Steve is an Advisory Board member of IORMA.
---
For more information about IORMA's series of Events and the opportunities to speak in and sponsor, go to: