Europe
Europe is and remains a highly interesting market with 50 countries and over 800 million consumers, of which over 500 million live in the EU28. Europe's economic recovery, which began in the second quarter of 2013, is expected to continue spreading across countries and gaining strength while at the same time becoming more balanced. The recovery is expected to become increasingly driven by domestic demand and to spread across EU Member States. Domestic investment and consumption are set to continue firming this year and next.  Growth forecasts for Eastern Europe (including Turkey) are slowly improving. The upward revision marks the first improvement in over a year and mostly reflects a lift to Turkey's growth forecast, which was more than sufficient to offset further cuts to the growth projections for Ukraine.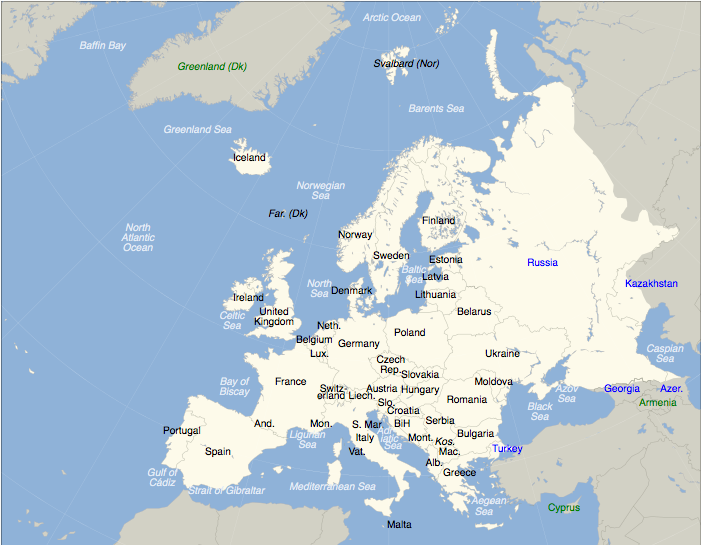 Despite the 28-nation European Union and the creation of the European Single Market (ESM) back in 1993 with the intention to enable free movement of people, goods, services and money, Europe is still not the really single market as our politicians intended. But today companies still encounter many obstacles when trying to direct their activities or open up their websites to consumers in other countries. Although the situation is improving, more should be done to further break down still existing barriers with respect to different tax regimes and VAT rates and systems and the like. Languages are different, as are sensibilities, customs, legal provisions and interpretation of EU Directives.
There are large differences between the various countries in Europe and the EU28 in terms of the proportion of Internet shoppers who made purchases in other countries and EU Member States. According to Eurostat, in 2008 and 2012, 88 % of online shoppers in Luxembourg had made online purchases from suppliers in other Member States. Malta had the same high proportion with 88 % (an increase of 9 percentage points compared with 2008) and Cyprus recorded 87 % (an increase of 19 percentage points compared with 2008). The lowest proportions were recorded in the Czech Republic (14 %), Germany (14 %) and Poland (8 %).
It is likely that these patterns are explained by the particular characteristics of the Member States concerned. Smaller Member States such as Cyprus, Luxembourg and Malta will have fewer domestic suppliers, giving a stronger incentive for online purchasers to look to suppliers abroad. In contrast, the size of the UK and Germany means that there is a large number of internal suppliers and therefore purchasers have less reason to compare prices and services available with suppliers in other Member States. In certain cases, geographical and cultural proximity, as well as a common language with another larger Member State, may result in relatively high levels of online purchases from abroad. IORMA shares the view that this is likely to be the case for e.g. Ireland (purchases made from suppliers in the UK), Austria and Switzerland (from suppliers in Germany) as well as Belgium and Luxembourg (suppliers from the Netherlands, France and Germany) and Scandinavia (suppliers to and from the neighbouring Scandinavian countries as well as the UK and the USA). 
In 2014 Europe will remain the largest B2C e-commerce market (including online goods and services) and the third-largest retail and online retail market (after APAC and North America). The average share of online retail in total retail sales will be 6.2%, up from 4.6% in 2012. The EU28 has a share of over 80% in total retail sales.
---
North America
North America covers an area of over 20 million square kilometres or 15% of the planet's total land area. The total population is estimated at around 355 million people, representing almost 5% of the global population. Most of the continent's land area is dominated by Canada (10mn km2 – 35mn inhabitants) and the United States (9.6mn km2 – 317mn inhabitants.  North America is the fourth largest continent by area, following Asia, Africa and Europe, and the fifth by population after Asia, Africa, Europe and Latin America.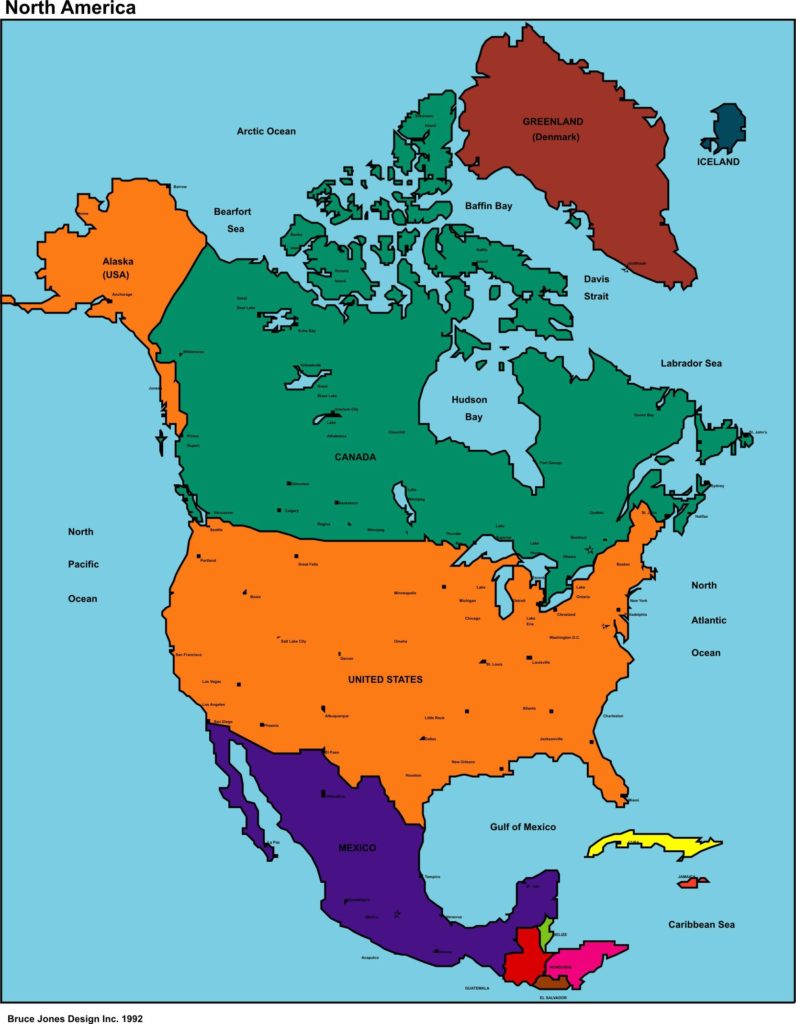 Total B2C e-sales in the region are set to grow to US$490bn, up around 11% compared to 2013.  The number of Internet users is estimated to reach around 305 million by the end of 2014 and the number of e-shoppers 213 million (70% of Internet users) with an estimated average total spend per e-shopper of USD2300 (USD 1490 for online retail only). Online retail spend per digital buyer in the USA is higher (USD 1518) than in Canada (USD1190).
---
Asia-Pacific (APAC)
Asia-Pacific or Asia Pacific (APAC) is the part of the world in or near the Western Pacific Ocean. The region varies in size depending on context, but in this Overview it includes much of East Asia, South Asia, Southeast Asia, and Oceania. Though imprecise, the term has become popular since the late 1980s in commerce, finance and politics. Despite the heterogeneity of the regions' economies, many individual nations within the zone are emerging markets experiencing rapid growth.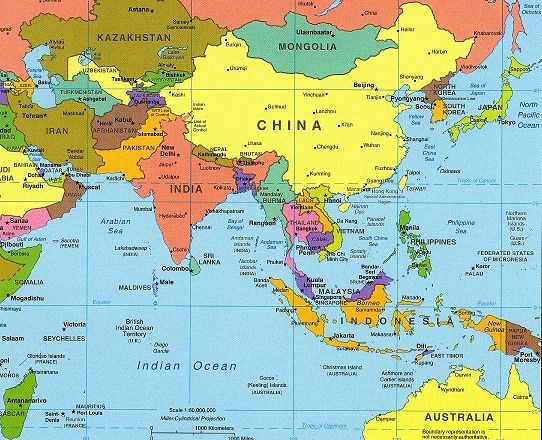 With around 4 billion people Asia-Pacific is home to close to 60% of the world's population. It is a diverse region, with seven of the world's ten most populous countries, and also some of the world's smallest island nations in the Pacific.
B2C e-commerce (including B2C e-services but excluding C2C e-sales) in the Asia-Pacific region are rapidly growing and set to surpass North America by the end of 2014 and Europe next year.
IORMA expects online B2C retail sales in the region to double compared to 2012 to reach USD330bn this year and to double again at the latest by 2017 at an average forecast annual growth rate of around 40%, pushed by giant China.  Total retail sales in the region shot up almost 15% compared to 2012 and are likely to continue in that direction. As for total B2C e-commerce (including online travel and other services), China is leading (USD235bn in 2014), followed by Japan (USD120bn), Australia (€41bn), South Korea  (USD24bn) and India (USD16).
Other countries in the region are developing in high pace, such as Vietnam, where total online sales shot up 300% in 2013. The most interesting country to watch is Indonesia (rapidly growing number of internet users and online sales doubled in 2013), as well as Taiwan, Hong Kong, Thailand, New Zealand (€3.5bn), Malaysia and the Philippines.
Mobile phone adoption is high in the region, led by Japan with and estimated share of m-commerce in total e-sales of far over 30%. Japan is followed by China (17% in 2013) and Australia (15%).
The region offers huge opportunities for online only as well as multi-channel and omni retailers. However, even if the overall trends in using online, the rapid adoption of mobile devices for search, reviews and purchase as well as the further penetration of social networks, are essentially the same around the globe, each market still needs a distinct "local" approach considering consumer behaviour, taste, maturity of the internet and confidence in shopping online as well as delivery and payment options.
---
Latin America (LatAm)
Total B2C e-commerce including online retail is one of the fastest-growing industries in the Latin-American region, an attractive place to be for numerous entrepreneurs not only from Latin America but from all over the world. However, the sector presents a fair share of challenges as well.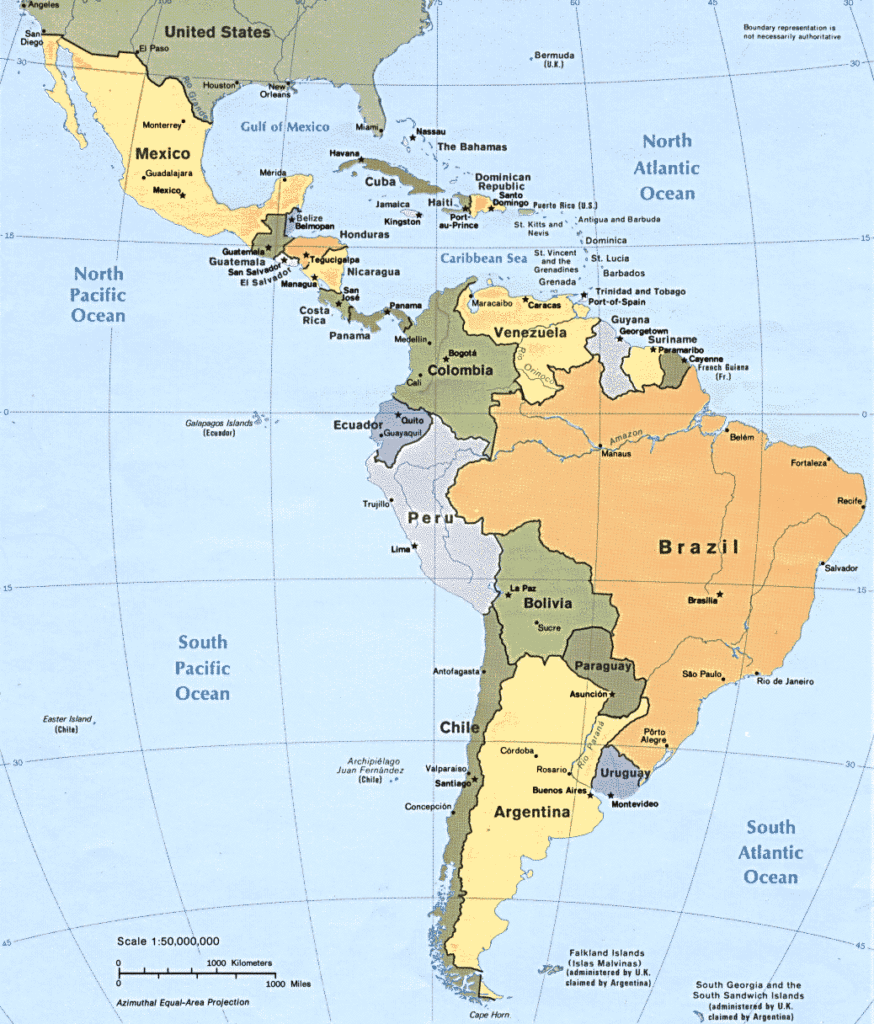 Internet access and penetration rates are rapidly growing: the region counts more than 300 million people with Internet access, 50 % of the 600+ million Latin American population. Brazil has the highest number with over 100 million users, followed by Mexico (52 million or 43%), Argentina (25 million, 60%), and Colombia (24 million, or 52%). Total e-commerce is set to reach around 41bn this year, and the share of online retail in total retail sales 1.4%, up from 0.9% in 2012.
The total number of e-shoppers is estimated at 150 million, 50% of Internet users. The average spend per e-shopper in 2014 will be USD280 in the region way below average spend in Europe and North America.
The above shows that there are still numerous challenges and opportunities for the further expansion of e-commerce in the region to catch up with the mature countries in other parts of the world, in particular the USA, Western Europe and Asia-Pacific. Local experts in the region have come up with some reasons why e-commerce is doing well but why not (yet) more people in the region are shopping online. Many still lack computer skills, and the penetration of credit cards is still relatively low. Some are concerned about their privacy and afraid to reveal too much information online, and others lack the confidence that goods ordered would arrive or arrive in time.
According to experts, the issues that need to be addressed in the region are: the need to increase confidence in buying online, to increase the positive awareness of online shopping amongst consumers and improved cross-border logistics. The use of mobile devices is rapidly increasing and e-commerce sites need to me better equipped for mobile purchases.
Young populations enthusiastically embracing mobile technology are giving Latin America the potential to become a digital gold mine as online retailing begins to take off. Recent figures show that online retail sales growth is outstripping more developed regions as a majority of Latin Americans have become web-enabled. The region illustrates how demographics, growing mobile use and rising standards of living are now helping emerging economies catch up with more mature online markets.
In the fast growing Latin American B2C e-Commerce market, cross-border online shopping[1] plays a significant role. In countries where domestic B2C e-Commerce is still emerging like Colombia, Paraguay and Venezuela the majority of online purchases are cross-border. In Brazil, the number of cross-border online shoppers is forecast to reach almost ten millions by 2018, with expenditure growing annually by almost a half.
[1] Source: yStats – Hamburg, Germany
---
Middle East & North Africa (MENA)
Online shopping in the MENA region (including Israel) is still in the early stages and e-commerce development differs widely in the region: from the more mature, affluent and tech-savvy population of the GCC countries and I srael to the still emerging countries in North Africa and the Middle East. But we share the view of many that the future is bright, if certain conditions are met.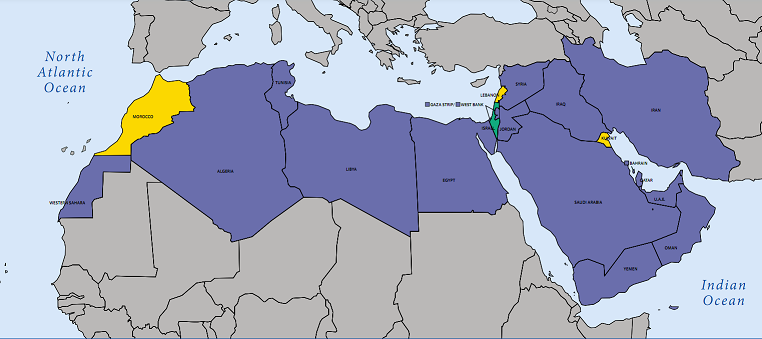 e-Commerce in the MENA region is facing the same challenges we see all over the world, such as political stability, lack of trust, concerns about privacy and using digital payments method, payment security, delivery options, relatively high costs of access and usage. Yet, the overall environment and support to invest in infrastructure, e-government and e-learning in many countries of the region will undoubtedly contribute to the further penetration and usage of Internet and consequently enable and further e-shopping and (online) retail.
According to IORMA estimates, close to 27 million online buyers in the MENA region will spend US$14,1bn (over US$530 per e-shopper) in 2014. This makes MENA the smallest e-commerce market in the world. But with a forecast CAGR of 30% to 35%, which might even reach 40% and higher in the GCC countries, growth in the region is faster than in many other regions in the world.
Iran (the great unknown!) has the highest total number of Internet users in the MENA region (45mn – 55%), followed by Egypt (43mn – 49.6%), Morocco (18,5mn – 56%) and Saudi Arabia (16,5mn – 60.5%). However, the percentage of Internet penetration as a share of the population is highest in Qatar, Israel and the UAE. According to IORMA estimates, the Emirates are leading the pack when it comes to total e-sales with US$5,1bn in 2014, followed by Israel with US$2,2bn and Saudi Arabia with US$1,4bn.
The region counts the highest numbers of mobile penetration of the world. In Saudi Arabia, Oman and the UAE the penetration of mobile phones is between 150 and 200% according to the ITU. As digital engagement levels and Internet penetration rates increase, levels of mobile device use rise correspondingly. Smartphones and tablet devices are becoming increasingly popular in the Middle East.  Saudi Arabia currently leads the Middle East by smartphone penetration level (76%) and is closely followed by the UAE with 72%, Kuwait (69%), Lebanon (62%) and Israel (59%) – meaning over half the total population of these three countries are connected to a smartphone device. Egypt stays behind with just 6%, only one percentage point up to 2012.
Social media usage is among the highest in the world in the MENA region: in 2013 Jordan, ranked highest in terms of penetration of social networks among internet users, hitting 95%, followed by Egypt (89%), UAE (87%), Lebanon (87%), Kuwait (87%), and KSA (81%).
Researchers found that Facebook and Twitter were the top social networks by far. Jordan was again ahead in ranking with 100% of social network users penetrating Facebook in 2013. UAE and Egypt equally followed at 99% while Lebanon reached 98%. In KSA, 93% of social network users accessed Facebook and only 83% did in Kuwait. However, penetration of Twitter among social network users slightly differed. Regarding Twitter use, KSA ranked the highest at 57%, followed by Kuwait (48%), UAE (43%), Egypt (35%), Lebanon (28%), and Jordan (10%).
Over the last 15 years the Middle East has witnessed key technology-led shifts that have transformed the way its countries govern, shop, and do business. The region's extremely young demographic (44% of the regional population are under 20 years old) is undoubtedly a key driving factor for the increasing levels of digital engagement for growth in (mobile) internet usage and social networking. Countries such as Qatar, Bahrain, Kuwait, Israel, and the UAE attained Internet penetration rates of between 70 and close to 90%, while penetration rates in countries such as Morocco, Yemen and Sudan were much lower, but these countries still displayed rapid Internet growth. In terms of mobile broadband, the region still lacks considerably behind the Americas and Europe, with a penetration rate of 18.9% (ITU, 2013).
This graph  shows the estimated 2014 retail and B2C e-commerce turnover (in billion USD) in selected countries in the region. It clearly shows the great potential of the region:
This graph shows the penetration of Internet usage (percentage of the population) in selected countries:
---
Sub-Saharan Region including Southern Africa
One of the fastest-growing regions in the world in terms of Internet connectivity and usage, Africa's mobile telephone population has grown exponentially, officially overtaking fixed-line phones.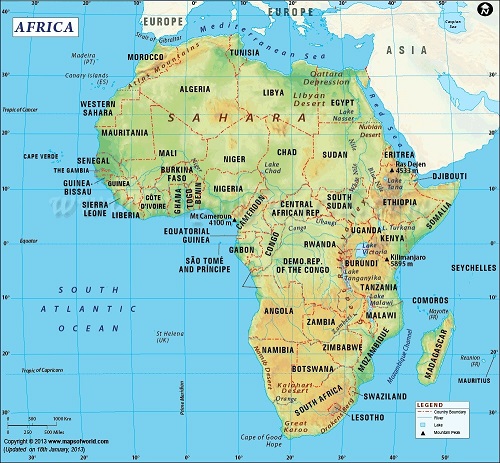 The continent's 650 million mobile phone subscribers even outnumber those in the U.S. and Europe.
Nigeria is the biggest country with a population of 167 million, followed by South Africa (53 million) and Kenya (44 million). Nigeria also has the highest number of Internet users (48.4 million – 29%), followed by Kenya (16 million – 37%) and South Africa (13.2 million – 25%).
Central and Southern Africa present a significant opportunity for online and omni retailers. For many years a lack of infrastructure has held back online shopping in the region. These days, the use of mobile devices to shop online is unlocking some of the potential, and big players are starting to take notice.
B2C online retail sales in Central and Southern Africa will reach an estimated US$1.7bn this year, but experts foresee an annual growth of around 40 per cent for the next ten years. We estimate that total e-sales will reach over US$3,4bn in 2014. South Africa currently leads in online shopping, but other countries such as Nigeria and Kenya have higher mobile shopper penetration and may overtake South Africa in the not too far away future.
On average more than 10 per cent of active Internet users in Africa shopped on mobile this year, illustrating the increasing importance of mobile connectivity on the continent. In areas where computers are hard to come by, consumers increasingly use mobile devices to connect to the Internet. The e-commerce market in Africa holds great riches for whichever companies make the bold decision to move into the likes of South Africa, Nigeria, Kenya and others. Mobile Internet penetration grows every year, and with it the opportunities in e-commerce. Investors may not see immediate payoffs from the continent, but in time are sure to reap rewards.
---