IORMA TECHNOLOGY TOUCHPOINTS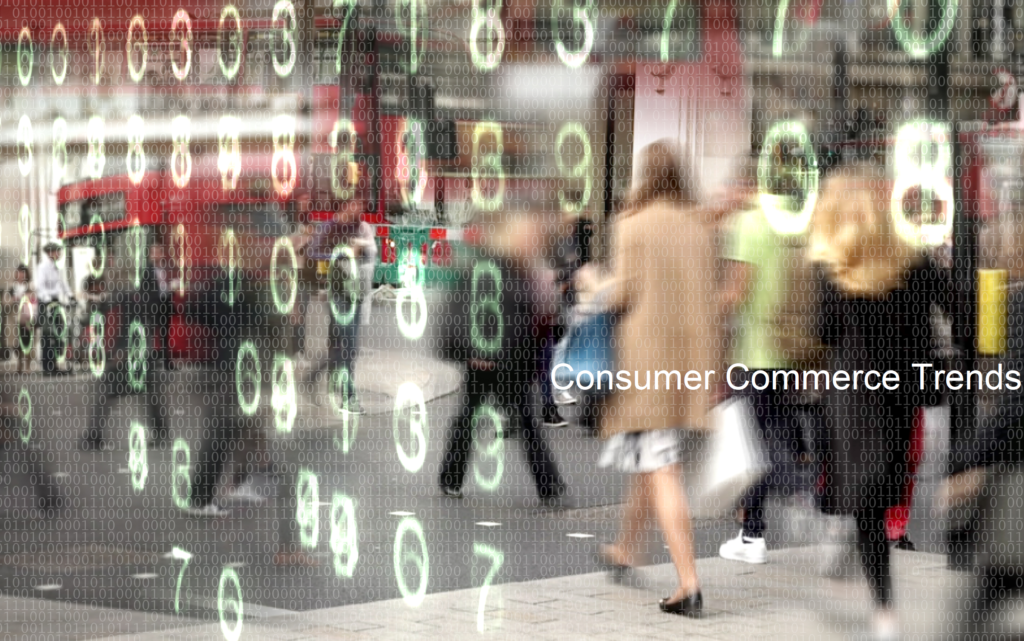 Touchpoint Technology Survey
November 2019
IORMA – THE GLOBAL CONSUMER COMMERCE CENTRE
INTRODUCTION AND BACKGROUND
IORMA brings together experts with a deep and broad experience of doing global business in order to foresee future trends whilst appreciating today's realities.
We are a neutral resource for Businesses and Governments that recognizes the need to understand and respond to the ways in which the 7.5 billion global consumers are changing – in the products and services they want and need, the way they pay for them, and the ways they want to obtain them.
These changes are happening globally, driven by developments in society, in business and in technology. The changes are important not only for all those dealing directly with consumers, but for businesses at all places in supply networks and for Governments and Academia in preparing for the future.
We are living in a world of three dimensional change which is being driven by emerging consumer power, AI led technological advancement and a consequent disruption to traditional business and consumer models.
Our role at IORMA is to identify the impact of technological change on the lives' of consumers and set tomorrow's technologies within today's context.
The latest Issue Consumer Catalyst Report takes a pragmatic look at one of our strategic sectors, Retail, which has traditionally been the barometer of consumer life. Our view is that unless it changes, Retail as we know it today will not exist in its present format within the next 5 years.
We point out why, yet against a backdrop of constantly growing consumer spend, huge opportunity exists for it to change, as the technology enabled consumer transitions to a new world of consumer commerce where brand loyalty is king.
FOOTNOTE
www.iorma.com is a digital resource and cross sector policy think tank which works with companies which are involved in today's digital revolution. We place the consumer at the centre of what we do and work with our stakeholders to look at the impact of technology on the consumer. We produce routine sector oriented reports which look at the impact of change on traditional business sectors. Our work is a valuable resource for governments, companies and consumer organizations.
TOUCHPOINT TECHNOLOGY SURVEY
ULTRAFAST READ
Consumer spend has grown for the last 50 years in the UK – it will continue to grow
Innovative digital technologies are creating a new business landscape – we live in a world of the empowered consumer
Technology, Technology, Technology – it will impact every aspect of our lives – positively and negatively
Agility and ability to harness superfast opportunity is top of the agenda for tomorrow's business leaders – yet they are not yet confident with technology landscapes
Social media has a vital role as a catalyst for new technology
AI is ubiquitous and there needs to a framework to nurture it
Digital is borderless – tomorrow's market is much bigger than the UK
INTRODUCTION
Technology is everywhere. It touches our daily lives, in work, at home and how we move around and talk to each other.
The Technology Touchpoint Survey is a top line survey which focuses on how disruptive technologies are impacting our lives and what people think about them.
In our world, little has been said about how digital technologies are creating a new world of consumer commerce, where the consumer sits at the heart of a new brand paradigm which is destined to transform the future of retail.
Historically, retail has been driven by investors, property developers and traditional retail companies. The consumer has been at the end of a rigid supply chain. Today that model has inversed. The faster technology develops, the more the traditional retail model is being impacted and the more the model changes.
Are we confident in using technology? Are we aware of how it is actually changing our lives and are we prepared and fully conversant with that change?
In our role of CTR, Corporate Technology Responsibility, IORMA takes a rein check on what people think of technology today and works with futuristic leaders to enable change management and a better technology enabled world for all.
We should not be surprised or negative about this. At the turn of the 19th century transport was revolutionized within months by the emergence of the automobile; at the end of the 20th century our lives were disrupted by the exponential offtake of the smartphone and the phone box became a shower.
For those who harness technology and change, opportunity is great. This candid and pragmatic survey report looks at how technology is empowering the consumer and creating a new consumer commerce journey – spend is up; the digital revolution is bringing a plethora of opportunity; traditional models are changing. The consumer is at the centre of the maelstrom.
BACK TO THE FUTURE – TECHNOLOGY EVERYWHERE
At IORMA, our Futurist Faculty looks back at to the year 2040 and takes a perspective on how technology has changed our world. The 4th industrial revolution has left a new connected life in its wake, underpinned by AI. It's a vastly different world which we see the early signs of today:
Leisure and hospitality venue 2040
Home of the future 2040
Biometrics will confirm the visitor's identity and unlock the door
– Pre-configured profiles will automatically adjust lighting, room temperature and music choice for each family member
– The kitchen will serve as the hub for healthy living by monitoring food intake and suggesting better alternatives based on the individual and the day
– a connected mirror will serve as a personal stylist, purchase channel and social sharing tool
Retail 2040
47% CONNECTED CONSUMERS
CONNECTIVITY CHANGING COMPETITIVE REALITY
GO TO OUTLETS WHEN WANT TO SEE OR TRY SOMETHING
How will tomorrow's store evolve?
TECHNOLOGY MOVES BUYING DECISION FROM THE STORE
ROUTINE SHOPPING NOT DONE IN A STORE
CURIOSITY WILL DRIVE PEOPLE TO STORES- TRY, FEEL, EXPERIENCE SOMETHING NEW
Storefront-Retailers will be able to send more contextual alerts to notify of new pricing, products or experiences to a consumer's individual wearable or voice platform
Stores of the future will have a separate entrance for those picking up orders made online
Entry and exit – facial scanning will identify consumers upon entry to the retail store, thus enabling retailers to provide a more tailored experience
Payment for the product or experiences will be automatically made upon exit from the retail store
Testing area – shopping will be more contextual, allowing consumers to try on the clothes or beauty products in a virtual incarnation of the final environment where it will be worn
The consumer's virtual personal stylist will help consumers make choices in the context of what the individual already owns or what might complete a desired look
SURVEY SNAPSHOTS
Are you completing this as a consumer or a brand/business?
Survey completed by both consumers and brands – providing an interesting perspective on those using and those impacted by disruptive technologies
Which of these sectors do you work in?
Survey respondents come from a range of interesting sectors, all of which impact our daily lives
Do you consider the brand or business you work for will be affected by disruptive technologies?
A massive 86% of respondents know technology is going to impact them
What will be the social impact of disruptive technology over the next 10 years?
Only 48% of people currently believe that disruptive technology will benefit them; importantly 45% of respondents focus on the 'how', the rollout, the change, the process
What industries do you engage with the most, using digital technology?
Respondents come from leading consumer sectors which impact our daily lives – retail, entertainment and leisure, finance, travel and tourism
How confident are you with using technology?
A shocking 70% of people are only somewhat confident with using disruptive technologies whereas 20% are very confident
Do you believe increased technology usage by brands/businesses is an improvement or hindrance to the customer journey?
Disruptive technology is ubiquitous but not a universal panacea – a significant 70% of respondents consider context to be crucial – with context comes objectives
Where do you learn about the latest technology?
Very interestingly, friends and family play a more important role than social media in communicating new technologies – of social media LinkedIn leads with YouTube playing an important role
Which social media channels do you use to learn about technology?
LinkedIn, Twitter and YouTube dominate the communication of new technologies – and thus have a key role to play in its adoption
Is the senior management of your business/brand aligned on a vision for the company's digital future?
An unexpectedly large proportion of respondents, 57%, confirm their vision for their company's digital future is aligned at a senior management level – this suggests digital transformation risks failing
How effective is your business at using technology to interact with consumers?
There is room for improvement in confidence levels within companies to rollout new technologies as they become digital first organizations
Do you feel that there is an expectation of brands/business to implement the latest technology?
86% of brands confirm they will implement the latest technologies as part of developing their digital future
What platforms do you use to learn about the latest technology for your business to utilise?
Work, online and blogs are recognized as the leading platforms for communicating new technologies
A FOCUS ON RETAIL – TERMINAL DECLINE OR A NEW MODEL
Much has been observed and commented upon recently in the United Kingdom regarding the state of the high street and retailing. Several well-known and long-established retailers have either ceased to exist or have been acquired from administration at minimal cost.
The once thriving retail shops and stores in many small, mid-size and larger towns and cities throughout the United Kingdom have increasingly closed and consequently many job losses have taken place and continue to result amongst the staff previously employed by those shops and retailers.
Economic figures over recent years confirm this accelerating decline.
Trends reflecting changing consumer tastes, attitudes and behaviour along with corresponding environmental, consumer transportation and logistical issues, have become evident particularly from the beginning of the 21st Century; regarding the way consumers acquire the goods and services they want and the ways they want to obtain them.
These changes have been happening because of developments in society, in business and especially in technology.
DO NOT BELIEVE THE MEDIA HYPE – CONSUMER COMMERCE IS FLOURISHING
Dramatic media headlines and coverage concerning the 'death of the high street' and the corresponding headlines such as 'physical shops and stores are doomed' have proliferated in recent times. Government assistance has been sought to address the associated challenges and impacts.
Yet despite the concerns expressed regarding traditional retailing through shops and stores and the death of the physical high street, total consumer expenditure of goods and services has continued to grow, mainly due to the continued effects of increasing population, increasing consumer disposable income, increasing employment and general continuing inflation in the costs for those goods and services.
'Channel switching' by consumers from store-based retailing to ecommerce (now approaching c15% of consumer retail) does not represent a change in the value of consumer spending, simply a change in the method by which consumers shop.
A growing trend in brands and manufacturers by-passing retailers and trading directly with the consumer is also now emerging (e.g. Apple) and looks set to increase.
Today's innovative technologies enable personal and direct relationships. This challenges the very existence of today's retail model where companies sell multi products, knowing little about them to an audience they know even less about at a location which is proving to be increasingly inconvenient. Change is afoot.
THE UK – OVER 50 YEARS OF GROWTH – CONSUMER SPENDING 1955-2018
Consumer Spending in the United Kingdom is flourishing. It increased to 332,149 GBP Million in the second quarter of 2018 from 331, 040 GBP Million in the first quarter of 2018. Consumer Spending in the United Kingdom averaged 175094.45 GBP Million from 1955 until 2018, reaching an all-time high of 332149 GBP Million in the second quarter of 2018 and a record low of 68008 GBP Million in the second quarter of 1956.
THE UK – CONTINUED GROWTH – WE NEED TO SHAPE THAT GROWTH
Consumer Spending in the United Kingdom is expected to be 331,712.00 GBP Million by the end of this quarter, according to Trading Economics global macro models and analysts' expectations. Looking forward, we estimate Consumer Spending in the United Kingdom to stand at 333956.00 in 12 months' time. In the long-term, the United Kingdom Consumer Spending is projected to trend around 344363.00 GBP Million in 2020, according to our econometric models.
HOUSEHOLD DISPOSABLE INCOME 1955-2018 – STRONG RECORD OF GROWTH
Disposable Personal Income in the United Kingdom increased to 335929 GBP Million in the second quarter of 2018 from 333116 GBP Million in the first quarter of 2018.
Disposable Personal Income in the United Kingdom averaged 183050.24 GBP Million from 1955 until 2018, reaching an all time high of 340973 GBP Million in the third quarter of 2015 and a record low of 66638 GBP Million in the first quarter of 1955.
RETAIL – 20 YEARS OF SLUGGISH GROWTH – 1997-2018
Little has changed in the basic retail model for the last 20 years. This is reflected in macro sales which are characterized by low single digit growth. Retail sales in the United Kingdom rose 3.3 percent from a year earlier in August 2018, following an upwardly revised 3.8 percent growth in July and easily beating market expectations of a 2.3 percent gain.
Retail Sales YoY in the United Kingdom averaged 2.54 percent from 1997 until 2018, reaching an all-time high of 9 percent in April of 2002 and a record low of -3.90 percent in February of 2009.
CONSUMER METRICS HITLIST – STRONG AND STABLE LANDSCAPE
Source: TRADING ECONOMICS.COM | OFFICE FOR NATIONAL STATISTICS
CONSUMER SPEND PROFILE – THE CONSUMER POCKET MARKET
Traditional market approaches create sectors and silos which enable a frame of reference, yet at the same time support a paradigm for restricting strategic change and growth. The innovator is seen as a challenger and the disruptor perceived as the villain.
We see this very clearly in retail where conventional models have been and continue to be anchored around property – the 'bricks and mortar model'. Now that model is ok whilst the consumer wants to go to a shop. That model is waning. It doesn't mean we're on the brink of a property depression. It does mean the building may have to be aligned with how the consumer is going to spend their money in the future – and that's certainly changing:
TOP OF MIND THOUGHTS
Product retail is a small, single digit component of consumer spend
Recreation, culture and hospitality, often overlooked by retail is big
The shopping mall is at the heart of a new consumer ecosystem – this is as yet underexploited
Consumer led goods and services in combination is the future
Mobile is the new channel
Brand is big and loyalty is key
If UK total spend is static – growth comes from an expanded market – where is that?
IORMA – CONSUMER COMMERCE MARKET MATRIX
At IORMA we've mapped a matrix of what's important for brands as they look at the consumer. This tells us a number of things:
Size of pocket, in the UK is static – so if we're going to grow we need to look at expanding our market
Big growth opportunities for traditional players lie in the changing face of the consumer
The route to the consumer is changing – for retail the bigger channels will become a precursor for growth
Source: Economics Online/ONS
AN OMNICHANNEL WORLD – SETTING THE RECORD STRAIGHT
We seem to be drowning in a world which is awash with omnichannel. We're drowning in the Amazon. The store is dead. We have to put that record straight.
Unprecedented access to data, and new technologies which support the analysis of that data have led to a new set of retail challengers. Amazon is at the top of that list of challengers. Did they do something completely new? Not really. Are they better than traditional retailers? – yes at using data and translating that data into fulfilment excellence
There's 3 big areas where retail needs to get their act together:
Retailers have more data than Amazon – they do not use it – start to
Retailers have direct contact with their customers – build relationships
Service, Service, Service – the new name of the game
ONLINE RETAIL – ONLY 20% OF SALES – WE'RE OK – NO YOU'RE NOT
Does the omni-channel dream translate into online leadership? That's a difficult question and one which does not easily come out of traditional data models. Looking at standard data sets online is just over 20% of total retail sales:
Source: Centre for Retail Research
Looking at the market through this filter brings risk. We prefer to characterize the market in the context of the consumer – putting the consumer first.
We then seek to understand what the consumer spends their money on, and then perhaps most importantly how they buy. This approach reveals a number of very interesting new features which by following conventional market models, risked being overlooked:
Mobile is the new channel – it is driving the majority of online retail growth; mobile is driving a significant component of traditional store growth
Mobile enables personalization and loyalty
Mobile is at the core of a new payments ecosystem
THE SHOP IS DEAD – NO LONG LIVE THE SHOP
Harbingers of retail doom claim that the shop is dead. We would tend to disagree with that. There are many things you can put in a shop and of course it can be argued that there are too many shops. Reflecting back to our Consumer Commerce Matrix, that's true.
Retail is a small and stable part of consumer spend. Other areas of consumer commerce are growing dynamically. This is being driven by new and emerging consumer profiles – millennials and Gen Z. To think store numbers would stay the same is risky at the very least and is reflected in store counts. To think what is sold in the shop can stay the same is plainly wrong.
Total UK Store Numbers 2012-2018
Source: Centre for Retail Research
UK Number of Retail Stores 1950-2018
Source: Centre for Retail Research
THE HIGH STREET AND THE SHOP – LIKE A PHOENIX FROM THE ASHES
Looking at data coming from the Centre for Retail Research, "High streets are a vibrant and important part of town centres". In 2000, high streets were responsible for 50% of all retail spending. Our research found this was now 36.6%.
You can't expect a High Street to be at the heart of a community as it once, if it has lost its relevance. We need to get away from the concept that the High Street is full of shops. We need to get into the mindset that consumers will hit the High Street is they are attracted to it. Read attract means experience and experience leads to engagement.
"High streets need to change from being primarily retail-led to becoming a leisure-and-entertainment focus with an important retail presence."
One could argue however that consumers have already migrated from the high street to out of town large Shopping Malls/Retail Parks (e.g. Westfield London, Bicester Village etc.). These locations have similar challenges however. What needs to change?
IORMA thinks the High Street needs to take on a new role:
The High Street as the new epicentre of Consumer Commerce – brands, services, retail, hospitality, culture, fitness, digital – the list is long; priorities need to be mapped out
The High Street needs to attract through engaging experience
The High Street needs to be digitally creative and get Smart – become mobile
THE FUTURE IS CONSUMER COMMERCE
There is a motto which says success breeds success. Yet ironically, it is that same success which brings with it resistance to change and an inertia which limits organizations' ability to see the next step. Retail has for a long time suffered inertia for change.
The UK has undoubtedly led global retail; we are an e commerce leader and we lead digital innovation. We are however inhibited by our success, our seemingly lack of thirst for international growth and our acute focus, as a nation, on tradition. This is restricting adoption of tomorrow's new Consumer Commerce paradigm.
Retail models have been characterized by:
Property anchors
The department store
Big brands
Yet, the mobile channel and increasingly personalized branding is changing that model. Ironically our young innovators are pioneering that model.
In the longer-term future, the underlying 'inevitable evolution' resulting from disruptive technologies will increasingly affect the whole of society and commerce, in a profound way, globally.
The disruptive technologies of tomorrow and the resulting applications concern such as:
– Artificial Intelligence
– Machine Learning
– Autonomous Transport
– Robotics
– Blockchain
– Virtual and Augmented Reality
– VoiceTech
– Facial and Image recognition
– 3D Printing
– Nanotechnology.
Each of these technologies has cross sectoral application and because of their inherent digital roots are extremely versatile.
Consumers, Consumer employment income, Consumer expenditure, Commerce and Retailing as a whole will not be isolated or cocooned from these disruptive technologies and applications.
Technology, youth and the rapid emergence of new consumer relationships will force the change from retail as it is known today to a new, broader and deeper world of Consumer Commerce. We already live in the world of the technology enabled consumer.
Today's successful market players are moving rapidly to harness these disruptive technologies to win new market opportunity.
Tomorrow's winners will be those who win the largest share of consumer pocket. What they sell and how they structure themselves to win will be predicated by a host of advanced, disruptive technologies.
Advanced Tech will enable vertical and horizontal integration – personalized customer relationships and brand led multi product and service portfolios, across key Consumer Commerce Sectors.