Without a process for collaboration and complex adaptive systems, the Tesla car would never have got into space
How Elon Musk solves his procurement problems…
John Rainford FRSA
Network Intelligence, CEO Strawberryfields.com > & Pronimen.com > Vice Chair, Iorma.com AI, IoT and Blockchain.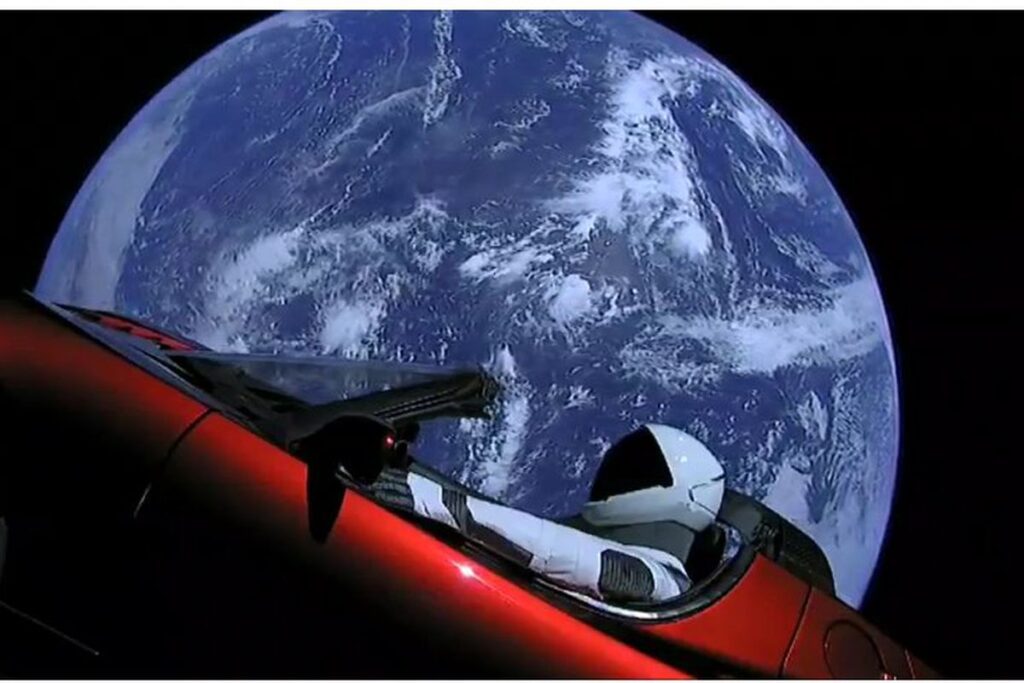 As SpaceX fires more satellites into orbit to help with the 5G explosion around the world, it makes you wonder what the future holds. Are we now controlling trillions of atoms (albeit temporarily) through nothing more than a concept, a thought if you will, that originated in Elon Musk's head? Doesn't this technological and intellectual upheaval suggest that we are now at the crossroads of another era? I am not just talking about the 4th Industrial age, but rather – a future where there is no turning back – no U-turn. Certainly these are exciting times – but what will evolve? a dystopian future controlled by robots? or a benign future where Artificial Intelligence becomes our greatest ally? – in our bid to survive as a species. How does neuroscience play its role? Maybe it is non of those things and maybe it is by asking the right questions that we can attain some modicum sense of a new reality, a new dawn?
In the Quantum world – we are told that observation itself can affect the outcomes of events. It is no different than Musk's thought of going to Mars, then looking at the questions we should be asking to get there. Why not? – is what we should be asking. Elon believes in open source systems where learning and growth are an integrated part of the whole organisation.
Closed systems, in contrast, (unless sufficiently modified) cannot survive. If we take the Concorde Aircraft for instance, it is an engineered project that has a limited capacity to act outside of the confines of its immediate environment. It cannot evolve. Elon Musk designed the Tesla car with customers in mind, and they feed directly, through AI, their views on the negatives as well as the positives in the car's evolving technology. A Complex Adaptive System changes the way in which the car can be used to suit customer preferences. This is a great example of where the combination of AI in manufacturing processes can help determine a true disruptive and competitive advantage.
Leaders and CEOs now have a far greater responsibility than just enabling AI and producing an economic competitive advantage for their shareholders. We are all part of a bigger story that promises to be exhilarating. Going to Mars within a decade? perhaps the human genome has accelerated learning through merging with AI? Whatever the outcomes, like Musk's car, it's going to be one hell of a ride.
Let's look at one aspect of Elon Musk's journey. Yes, it started off as a single thought – with the help of other influencers, no doubt, but it manifested itself into the coming together of people who could share these same thought processes and goals – its impact on the physical world was just as profound, as the procurement process embraces minds as well as physical and intellectual components. Procurement is the managing of things brought together whether intellectual or physical, and this is going to be a critical factor that will help determine our progress as the human race. Take Blockchain for instance – whilst its implementation has so far been rocky – it holds real promise of verification beyond transactions and source finding (example: food sourcing). It promises the potential as a bond for human interaction and collaboration that can free up creativity in individuals and whole societies as we realise our true valued potential and our contribution for the betterment and growth of the human spirit.
The digital twin gives us insights and helps to make predictions about potential futures. This is a virtual replica of the real thing that incorporates new learning and and helps us design new configurations with real time feedback.
Smart City concepts devised by architects cannot be seen as an isolated techno-wonder, rather they need to encompass the ideals and promises that IoT, AI and Blockchain can provide for communities as we accelerate our learning for democratic values, self determination and ultimately self actualisation.
Let's look at the merging of AI and human endeavour.
Elon Musk reflects on his own procurement journey for the Tesla car, with over 10,000 parts to either manufacture or source. Procuring relevant people and components, coupled with a customer centric AI system – that would allow feedback straight into the manufacturers design team – is nothing short of brilliant. The Tesla operational team could evolve the design, make modifications, alter and resource components in real time. Without a procurement process that unites the people and the parts, the whole process can be problematic, indeed for Elon Musk, he experienced a very challenging procurement learning curve, until he adopted an integrated complex adaptive system of co-evolution and real time learning.
What do we mean by co-evolution?
The bringing together of compatible partners or parts that add value to the overall proposition. It could be something as simple as a new phone – that can speak to the car's internal brain, or could be a group of people that are working on technology that fits into the offering. A map like a Complex Adaptive System could provide a new jigsaw view that identifies a missing piece that adds a pivotal value. I am reminded of the Rolls Royce Chief Innovation Officer that we worked with, who declared that the customers insist on mobile phone synchronisation (to their own individual phone settings) before they purchase the vehicle.
What about helping your customers and suppliers to co-evolve?
The rocket that sent Elon Musk's car into space (on its way to Mars) required a huge logistical and project procurement exercise. By comparison, the car was small potatoes – but still required a process that called for vertical as well as horizontal industrial integration with its many parts. Eventually they developed an evolving structure that was complex, adaptive and allowed the engineers to navigate and manage the whole project, and many others, in a coherent systematic form.
Elon Musk's experience is particularly pertinent, as he was developing new technologies that had to co-evolve with other integrated technologies. He attributes his business success on his creative and holistic approach to problem solving by using First Principles. He is not prepared to accept existing positions or presumptions. His creative visualising process is powerful and procurement managers and CEOs can learn from this new flexible systems thinking.
Evolving a Business and Operational Model
Adapting an evolving Business and Operational Model (and mind) means looking at the whole picture rather than singular deterministic linear thinking. Managing Procurement and Engineering projects using Complex Adaptive Systems means being able to adapt to new challenges because they provide inclusive overall control and shared synergy with all of the people involved in the operations.
There are many sides to the adoption of Artificial Intelligence that leaders are aware of, including socio-economic responsibility and stakeholders from all walks of life. It isn't just about an engineered project that is linear led anymore. Leaders need new constructs like CAS so that they can articulate to all of the stakeholders how the process of the telecommunications infrastructure in Smart cities, for instance, will impact people's lives.
Traditional ways versus CAS
Studies have shown that traditional ways of managing supply chains can be difficult to manage in changing circumstances. A better system of evaluation and holistic collaboration pays dividends for leaders and helps to bring the teams on board with a shared strategy in real time. Getting buy-in isn't just for customers.
Complex Adaptive Systems provide an analytical framework that is holistic and provides an overall understanding of the supply network and its applications. It can incorporate logistics and help leadership teams and architects to see the relevant aspects of the supply networks and makes the inter-connectivity transparent, in the infrastructure.
For instance, the levels of interaction can be at several levels,.The inner structure of the organisation itself includes who is responsible for what. The outer layer would comprise of suppliers and the communication points of contact.
The outreach from them could include their suppliers (for example – their manufactured items and their contact points). This is why Blockchain can be a useful reference to determine and verify quality and sources.
Smart Cities and telecommunications
This could be extremely important in building smart homes, or smart factories, for Smart Cities or Communities – especially where the architect's reputation and governance are concerned. If the procurement leader wants to make sense of the suppliers in terms of their effectiveness and importance and compare the offerings of suppliers for competitive value, then a live process should be in place. That's what AI and 5G bring to the table – real time information.
What happens, for instance, if the quality offering has been accepted and further down the line it has been substituted by an inferior product? A Blockchain or similar process will verify the continuous activity of the supplier/manufacturer wherever they are from. This is the future of procurement.
The complex adaptive system allows for the co-evolution of technology so that we are not always facing out of date or irrelevant technologies.
Actors, sometimes called agents, in the system can affect the whole system, that is why project management cannot be seen purely in linear terms. It can flag up issues in a predictive way before the management of the process is disrupted. An early problem or an anomaly (like a missing or mistimed product entering the system) can be intercepted and anticipated with live real time data.
The interaction and collaborative relationships become more 'realised' with Complex Adaptive Systems playing a crucial part in the management of structural or organisational projects. It changes a static linear picture of the engineering model of a Smart building into a dynamic, adaptive and co-evolutionary process, whereby all of the parts are mapped out and evolving in realtime. It is supported by dynamic interactive software.
It's time to map out your entire product review process, and its relative contribution to the whole. It is important to adopt an adaptive leadership process so that you are in control and closely in touch with the procurement process, no matter how little or large your project. It is worthwhile and adds real value to the project by putting you in control.
Above: from pronimen.com > diagram showing interacting telecommunication elements.
The author has six distinct roles, all of which take on technological (digital) leadership and collaborative innovation processes by adopting methodologies in AI, and IoT and Blockchain for unique competitive advantage. He is also a Fellow and on the executive for the Lunarsociety.org.uk
The Complex Adaptive Systems he describes are used by companies like SpaceX, Tesla and NASA – and by physicists such as the Nobel prize winner, Gell-Mann. The Darwin Matrix is a manifestation of the CAS process and is used by Smart Innovative Universities and top Business Schools all over the world. He is a thought leader and uses his process to help with competitive advantage working with corporates like Shell Global Solutions. For more examples and case studies, visit the sites below. Contact him directly at these email addresses.
john.rainford@pronimen.com > mapping out 5G and telecommunications infrastructure.
john.rainford@strawberryfields.com > the dna of innovation, transforming people and technology.
john.rainford@iorma.com > transforming leadership to meet the challenges of the 4th Industrial age.
john.rainford@darwinmatrix.com > helping teams to collaborate with real time software.
john.rainford@cceg.org.uk > Global Blockchain Consultancy
---